AussieNick Squash League Information
AussieNick Squash at Chevy Chase Athletic Club is the only club that features Squash League teams in all levels of the DC area home and away competition. Playing on a league team is a great way to find partners of the same level and play regular matches in round robins.
Captains
Div 1: Shai Ingber
Div 3: George Tsibouris
Div 4: Paul Conner
Div 5: Michael Kuehl
New! Corporate Squash League!
The Corporate Squash League provides participation in a fun, fitness oriented and convenient program for businesses and staff in Friendship Heights to fit your schedule.  Coordinator is Jackie Barnes, Dartmouth alum, captain of squash team, and former top 100 world ranking.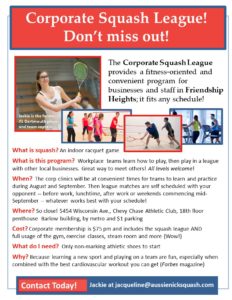 Program details:
How is it set up? – Workplace  teams learn how to play squash and then play in a league with other local businesses. All levels welcome!
When? – Clinics will be set up at convenient times for teams to learn and practice during August and September 2017.
Cost? – Corporate membership is $75 pm and includes the league as well as full usage of the gym, exercise classes, steam room and more! (Wow!)
Why? – Because learning a new sport, meeting new people across different work places, and playing on a team are fun, especially when combined with the best cardiovascular workout you can get (Forbes magazine).
Match times? – Self-scheduled with your opponent. Before work, lunchtime, after work or weekends commencing mid September
Contact Jackie Barnes at Jacqueline@aussienicksquash.com
Improve Your Game
Video Assessment Analysis :  We provide squash assessments utilizing the professional motion analysis software. With the cooperative efforts between our PT staff and our elite level squash coaches on site, we have the ability to clearly and effectively walk you through a video analysis of your desired stroke/strokes, allowing coach and client to closely analyze any inefficiency in technique. A dual view of your pre-correction and post-correction video will provide you with biomechanical insight, which will be used to compare noticeable improvement in technique and form.
Along with improving performance, we also use this assessment as a preventative and corrective measure in regards to injury. The more efficient your technique, the less you prone you are to sport related injury. This could potentially alleviate any existing injury or discomfort due to squash play.
For more information or questions please contact Connie Barnes.
Summer match play!
We are also offering clinics and round robins on Sundays through summer! Please note that registration 24 hrs before the activity is required by paying on this LINK and sending the receipt to Coach Nosh, nosh@aussienicksquash.com
Commencing June 24
Adults Sunday
6.30 – 7.15pm round robin $10 pp come and play – 1 game on one game off with a variety of players, coach will supply coaching tips. Cost $10 members, $20 non-members
Adults Tournaments please click here.
Men's Squash please click here.
Women's Squash please click here.
Quick Links:
Download a copy of US Squash Single Score Sheet.
League