The Corporate Squash League provides participation in a fun, fitness oriented and convenient program for businesses and staff in Friendship Heights to fit your schedule.  Coordinator is Jackie Barnes, Dartmouth alum, captain of squash team, and former top 100 world ranking.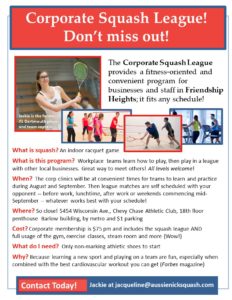 Program details:
How is it set up? – Workplace  teams learn how to play squash and then play in a league with other local businesses. All levels welcome!
When? – Clinics will be set up at convenient times for teams to learn and practice during August and September 2017.
Cost? – Corporate membership is $75 pm and includes the league as well as full usage of the gym, exercise classes, steam room and more! (Wow!)
Why? – Because learning a new sport, meeting new people across different work places, and playing on a team are fun, especially when combined with the best cardiovascular workout you can get (Forbes magazine).
Match times? – Self-scheduled with your opponent. Before work, lunchtime, after work or weekends commencing mid September
Contact Jackie Barnes at Jacqueline@aussienicksquash.com