AUSSIENICK SQUASH SUMMER CAMPS 2018
We have an exciting array of Coaches for Summer 2018! 
Alister Walker
, Former World #12 and Columbia University  Coach, 
Connie Barnes
Director of Squash,
Rod Barnes
Local Master-Coach, 
Dr. Jim Masland
Squash Pro, Head Coach CCAC
, and
top juniors from the DC area including
Jacqueline Barnes
(Dartmouth #1), Drexel's
Jeremy Barnes
  and college players. Your child will benefit from a terrific experience regardless of level. Campers will be divided into Groups 1, 2, & 3.
Note – there is $50 for full day and $25 discount for siblings or returning campers!
1 Fun. Junior. Camp
First is the Fun Junior squash camp for the 7 – 12 yr old beginner – good beginner – this is a great way to introduce your child to squash – they will enjoy learning basic squash technique and playing games and participating in table tennis, chess, board games, movies & more! Hours are 9.30-3.30pm.
2 Novice.- JV.level. camp 
The second type of camp we offer is for novice through to JV players 10 – 17 yrs. The coaching staff has unique squash abilities and talent to teach your child skills to prepare for JV level squash. Participants are divided into 2 groups dependent on level for the program. Hours are 9.30 – 3.30pm.
3 JV-Varsity. level. camp
JV – Varsity level camp – our team of experts will work with JV – V level players to bring them to the next level for the start of the squash season. There will be emphasis of technique, strategy and fitness. Hours are 9.30 – 3.30pm
4 Rods Elite Camp* approval required prior to registration. Rod is the Elite Junior Master coach at CCAC – his camps are designed for top juniors who expect significant improvement. Hrs 3 – 6pm Wed – Fri, Sat and Sunday 2 – 4pm
Camp                             Dates                                                      Coach                                                                                      Sleepaway/Full day / Half day
1
June 11-15
Jim Masland, Connie Barnes
$650/350
2
June 18-22
Jim Masland, Connie Barnes
$650/350
3
June 25-29
Jim Masland, Connie Barnes
$650/350
4
July 2-6
Alister Walker (sleepaway/full day)

Jim Masland half day only

$1,700 sleepaway $1,000 day

$280 4 days

5
July 9-13
Jim Masland, Connie Barnes
$650/350
6
July 16-20
Jim Masland, Connie Barnes
$650/350
7
July 23-27
Jim Masland, Connie Barnes
$650/350
8
July 30-Aug 3
Jim Masland, Connie Barnes
$650/350
9
Aug 6-10
Alister Walker (sleepaway/full day)

Jim Masland (half day)

$1700/1000/350
10
Aug 13-17
Jim Masland
$650/350
11
Aug 20-24
Jim Masland, Connie Barnes
$650/350
12
Aug 27-31
Jim Masland, Connie Barnes
$650/350
No credits or refunds after May 1. Contact Connie Barnes 301 807 9905 conniesquash@gmail.com
Register
AUSSIENICK SQUASH SPRING BREAK CLINICS/CAMPS 2018
These are designed as a mid-season intensive squash experience for juniors at all levels who are intent on improving their game. Camp highlights – Technical and tactical analysis, physical conditioning, game analysis, small group instruction and video analysis including a report with recommendations for training. Students will be divided into similar level groups
Coaches – Jim Masland, Connie Barnes,
Jacqueline Barnes (former Dartmouth #1)
Winter break dates: March 24 – April 1.
2 sessions per day – 10am – 12 and 12.30 – 2.30pm
Cost – $40 per session per day or $60 for both per day
Pay at: http://aussienicksquash.com/product/general-purchase
And forward the receipt with details of participants to Conniesquash@gmail.com.
AUSSIENICK SQUASH NATIONAL ACADEMY SUMMER 2018 CAMPS in CHARLOTTE, NC
REGISTRATION for Charlotte Summer Camps 2018 is HERE.
ALISTER WALKER SUMMER CAMPS 2018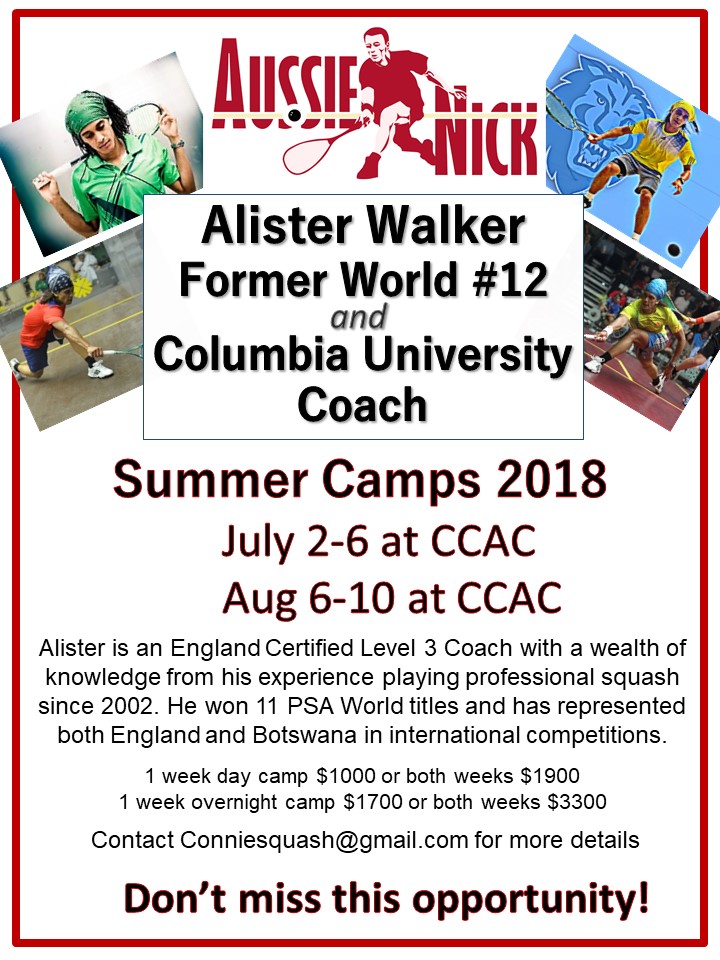 REGISTRATION for Alister Walker Summer Camps 2018 is HERE.
AUSSIENICK SQUASH INTERNATIONAL ACADEMY
The next AussieNick Squash International Academy Australian Connection residential summer Squash camps will be held in Cairns in Summer 2019, Australia at a brand new 8 court facility. The program will be headed by leading Australian coach Marc Forster. Click here for more information on the International Camp or contact Connie at conniesquash@gmail.com for more information.
These residential camps are designed for more than a great squash training experience. The program will include Nutrition, Sports Psychology, Injury Prevention and Management and conditioning for the future athlete's body and mind.
Typical Week Day
7:30: Arise
7:45: Breakfast
8:45-11:30: Technical Session 1: Swing and movement analysis and construction
11:30-12:20: Match play incorporating technical advice.
12:30 -1:30: Lunch
1:30 – 2:00: Free time
2:00 – 4:00: Technical Session 2: Video analysis, Nutrition and Sports Psychology
4:00 – 5:00: Technical Session 3: Cross training education e.g. Weights, track, explosive conditioning, swim
5:00: Shuttle to back to Accommodation
6:00: Dinner
7:00: Relaxation activities: Movies, Swim, BBQ, Brisbane tour, Emails to family
10:30: Bed
Nutrition
Did you know that eating carbohydrates too close to a game can actually be detrimental to performance? Do you know which food group is most important to avoid in the lead up to a competition? Good nutrition is an important aspect of achieving top performance in sport and life in general. The program will provide guidance for the development of good nutritional habits for lifelong sports performance.
Sports Psychology
"There is nothing wrong with saying to yourself that you don't want to do all the mental training stuff but there is something wrong with thinking that you will get to the top without it" (Orlick 2000). Psychological tests are performed and help develop strategies for improvement.
Australian Institute of Sport (AIS) trainers will be used for the Nutrition, Sports Conditioning and Sports Psychology training.
Tour Activities:
Sightseeing items include: Flight to Brisbane and visits to Gold Coast/Sunshine Coast & Australia Zoo, Kuranda Railway scenic train trip and more
Email: conniesquash@gmail.com for quotes.
TESTIMONIAL:

My travel to Australia in 2015 has taught me many things about myself, my love for the game of squash and stretching my limits of comfort in order to learn what I can handle as a person. Overall, I have never been to a country more welcoming and exciting as Australia; the people are so kind and the places are life-changing. My favorite location was the city of Brisbane, because it is impossible to compare to any city back in the U.S. There is every store you could imagine, all within walking distance, a wonderful array of nature to balance the industrialization, and a wide range of entertainment for all ages within this tropical city. Even though I only spent a few days here, I felt like I had only touched the surface, and would gladly travel back if I had the opportunity. In Australia, I made the transition from being a good athlete to an elite athlete, with a greater respect for the game. Before the trip, I would merely practice my shots and do fitness, but I was not documenting my training, and I did not have a set in stone routine to follow. After traveling to Australia, being put into a vigorous training program for improvement, and training 2 times a day, I realized I wanted to take the next step in my game. Now, I have a documented training program involving technical, mental, physical, and dietary focal points so I can be completely prepared for the vigor of competition. Because I lacked the professional training that the top juniors in the states have, I needed the internal motivation to drive myself to creatively come up with ways to use the resources I have, and Australia gave me this. Since last year, my ranking has gone up about 10 spots, from around 35 to 24 currently, and I owe it all to Australia. I have received compliments at multiple tournaments about how I take the game much more seriously now, but I do not think I could have done it alone. I want to thank Connie Barnes, the Barnes family, and all who helped me train overseas in Australia, and I hope to return in the future!
With only having done one session I already felt like a more calmed, relaxed and smarter squash player on court. Within 3 months of that session as promised I played the best squash of my life. Not only did that half an hour session dramatically affect my squash I applied a lot of it into my everyday life.
AUSSIENICK SQUASH ANNUAL WINTER AND SPRING BREAK CAMPS
AussieNick Squash provides Winter and Spring Break Camps annually. Chevy Chase Athletic Club is the leader in junior squash programming in the Washington DC area. Winter and Spring Break camps are run by top class squash professionals dedicated to teaching your child good technique and sportsmanship behavior.
Junior Winter and Spring Squash clinics are for beginners through to advanced players.
The Coaches:
Connie Barnes Director of Squash
Rod Barnes Local Master-Coach
Dr. Jim Masland Head Coach
Contact Connie for more details and with the clinics you would like to attend. Registrations are not accepted without payment; no refunds/credits are provided. Thank you.
Contact Connie Barnes, Director of Squash
conniesquash@gmail.com
301. 807. 9905
Camps